Reminder-Elf Pictures tomorrow

Just a reminder that pictures with our elf will be taken tomorrow. Order forms were sent home last Friday. Pictures can be picked up in the front office on 12/19 and 12/20.

Holiday Showcase - Mark your calendar

Please join us for our annual Holiday Showcase on December 20th. This year our program is split into two productions to truly highlight the talent of the students. A special treat is planned as a take-home surprise after the evening show. Check the Friday folder for your child's permission slip. We hope to see everyone there.

Student Government 2018-2019

See Ms. Moore if you are interested in running for office, the packet contains deadlines. This is open to 5th-7th grades.

Angel Tree and Toy Drive

Sponsor a child in need. Get an angel from our Angel Tree starting 11/19. All gifts must be wrapped and dropped off by 12/13 to the front office.

Food Drive

Donate canned foods and other non-perishable items to the school. We are also accepting donated turkeys or hams. Thanksgiving baskets will be created to help families in need on Thanksgiving. All donations will benefit families within the BridgePrep community.

PAL Meeting - before Literacy Night on 11/8/18
Just a reminder that our next PAL meeting is scheduled for 11/8/18. Join us for our next parent meeting on 11/8/18. All November dates are on the calendar that you will receive on Friday.

Literacy Night -Reminder

Please join us for Literacy Night on Thursday, November 8th. We hope to see you there!

Character Parade - Oct 31st
The attached permission slip will be sent home tomorrow. Please indicate if you plan for your child to participate in the parade. This is not a Halloween parade, just a celebration of literacy.

Character Parade - Oct 31st

Help us celebrate the completion of our first month of the national "Book It" campaign. This program encourages students to read. Research shows that the more students read and are read to the likelihood of academic success increases. We want to create a love for literacy that will last a lifetime.

Report Card Update - 10/29/18
Report cards will be sent home on Monday, October 29th. There was a district level issue. The district did not release the report card files on time which will affect the day the report cards are sent home. If you have any questions please call the office.

Show All »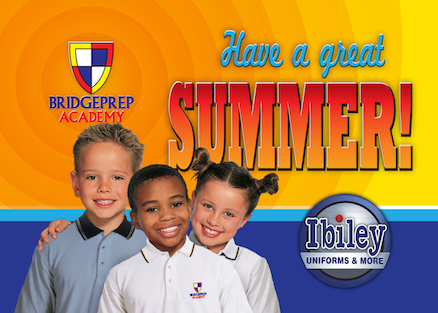 Buy your BridgePrep uniforms today!
Quick Poll
Are you attending the Holiday Showcase?
Featured Album
October Student of the Month